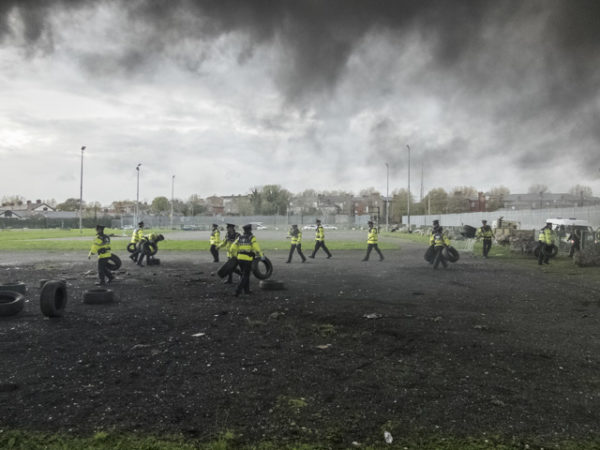 All Hallows Eve
2015
Photographic
82 x 61 cm.
Edition of 5
€800
In 1607 the Coat of Arms of the City of Dublin was first granted officially to the municipal authority – the Dublin City Assembly. The city's Latin motto, Obedientia Civium Urbis Felicitas translates as 'Happy the city where citizens obey'. Obedience doesn't appear to have been order of the day during Halloween 2014 at O'Devaney Gardens, during a stand-off between locals and An Gardai Síochána. The Guardians of the Peace were no match for the zeal of the local citizens as their traditional bonfire went up in flames seconds before the authorities were able to dismantle it. Meanwhile, Dublin City Council have seemingly replaced their cross-bows with the internet and social media as they invite their citizens to log onto their website and click on the link 'Report Stockpiling of Bonfire'.
Anti-Social Housing
2016
Photographic
82 x 61 cm.
Edition of 5
€800
Dublin's O'Devaney Gardens originally consisted of 14 blocks of social housing. When Dunn took this image in June 2016 there were just four units remaining as if awaiting their fate on death row. At this time local teenagers set fire to the unoccupied blocks almost every night. One evening Dunn witnessed Dublin Fire Brigade attend the scene in order to extinguish fires on three separate occasions. This image was taken prior to the arrival of the authorities.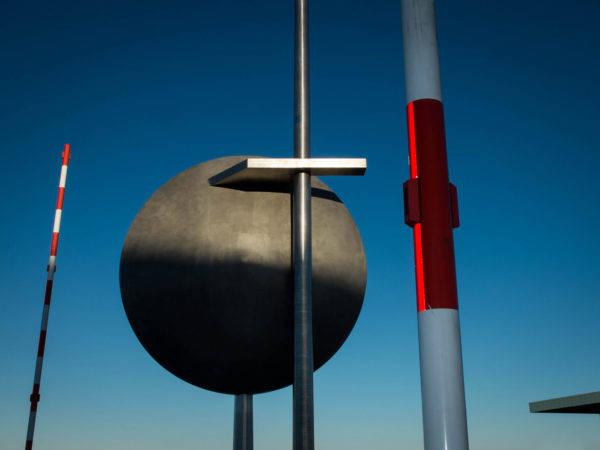 Ones and Zeros
2016
Photographic
82 x 61 cm.
Edition of 5
€500
Taken in November 2016 in Amsterdam, Ones and Zeros refers to the DNA of the digital process that has resulted in this physical printed image. However, Dunn's visual depiction of the subject is an abstract visual interpretation of the shapes of 1's and 0's, albeit in the form of Dutch street furniture.
About the Artist
Originally from Deal in Kent, Gregory Dunn has been working on personal photographic and film projects for a number of years, documenting various aspects of Ireland with a particular interest in the unconsidered. Having successfully completed a course at Ballyfermot College of Further Education in Television Operations and Production he now works primarily in the field of documentary television.